CHALLENGE
Earlier this month Las Vegas saw the grand opening of the world's largest marijuana dispensary. Not only a destination for cannabis shoppers, this marijuana dispensary, in Las Vegas fashion, is an attraction in itself. The Planet 13 Las Vegas Cannabis Superstore and Entertainment Complex is an interactive art experience from projection mapping, to an aerial orb show, to an interactive LED floor that lights up as soon as guests walk in.
During the planning phases, when Co-CEO Larry Scheffler began thinking about the signage and exterior for the complex, he realized that if he was to build the world's largest dispensary – he would need world-class art. He wanted the public to see at first glance that this building was not just a store, but a Las Vegas destination for art and entertainment.
Larry had a vision of commissioned art on the roof of the building. He envisioned 13 lighted interactive flower sculptures on the roof that would be visible from a distance day and night. His dilemma was where to find an artist to create these sculptures. These would be permanent art installations, each fifteen feet tall, that would need to be engineered to withstand Las Vegas heat and extreme wind speeds.
And, what artist could design and fabricate the sculptures under his tight timeline? It was April 2018, he didn't have a design or an artist yet, and Larry was determined that the grand opening of the marijuana dispensary would be November 1, 2018, only six months later.
SOLUTION
Larry followed CODAworx on social media and reached out to find out how to hire an artist. As the international authority on commissioning art, Larry learned that CODAworx has a pool of 17,000 artists from around the world, and he hoped one would be right for his project. Larry chose the CODAworx Concierge Service to have a CODAworx RFP Specialist manage his high profile project and quickly get his opportunity out to their entire network.
The CODAworx team created a Request for Qualifications document (RFQ) and handled the process from start to finish. The RFQ announcement went out in a targeted email to appropriate artist professions from the CODAworx database. The email was sent to sculptors, interactive artists, and artists who worked glass, acrylic, metal, mixed media, digital media, and light.
After the email was sent, the CODAworx team handled any applicant questions. At the end of the application period, Larry and his Co-CEO were presented all applicant qualifications and images of past work in a beautiful layout in the CODAworx RFP Toolkit application management tool. After one meeting, Larry and his partner knew right away which artist they wanted to hire.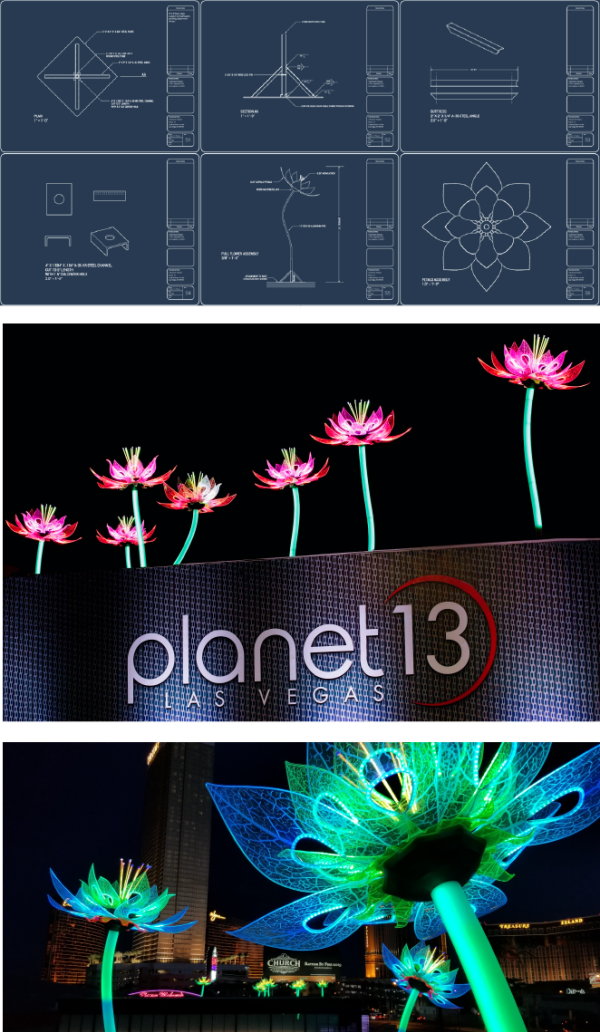 RESULTS
Larry selected artist Todd Moyer from Los Angeles for the Planet 13 interactive art installations. Todd was chosen based off his past work in creating similar interactive art installations for festivals. After being selected, it was Todd's job to create a design that met Larry's vision for the artwork. Todd noted, "Larry Scheffler was more than just a client — he had an active role throughout the creative process. This made him more like a creative director and it became our job to turn his vision into reality using the style and techniques we've developed over the years."
Once they had an approved design concept, Todd and his team did most of the fabrication of the acrylic flowers in-house, but to help with some of the heavy lifting, artists Manuel Coral and Ben Seng came into the studio. Manny oversaw the petal bending and stem bending processes while Ben handled hub assembly and finishing. Rocio Zarate lent her electronics expertise and did most of the actual soldering work herself. The steel bases to affix the flowers to the roof were laser-cut by an outside vendor. The whole installation was a collaborative effort between artist team, the client, the construction management company, as well as several subcontractors. The tight timeline made collaboration even more critical to ensure the art install was completed on-time alongside the construction of the building.
Previous to this project Todd had completed multiple temporary interactive art installations for music festivals and events. This project was similar in scale to his past work, but was Todd's first permanent art installation. Todd noted that permanent vs. temporary work had different challenges, but in some ways this commission was easier. Unlike festival installations, the work won't need to be torn down, transported, and re-installed in multiple locations. Todd is excited that this permanent installation will now add "a new category of work to our portfolio." As far as his experience in using the CODAworx RFP portal to apply, he admits that without CODAworx he would have never found out about the Planet 13 opportunity. "The CODAworx RFP provided all the info needed to have confidence that there was a perfect fit between the project's needs and our capabilities."
In the end, even with the tight timeline the flowers were completed on-time and on-budget. The flowers were installed, lit and ready for the public to interact with the night of the grand opening, and Todd was happy to see visitors were "blown away." A participant was able walk up to an elegantly-crafted platform, set their hand on a sensor, and watch with delight as the flowers on the roof changed colors.
Todd Moyer was so successful on this project that he has already been commissioned for two more interactive art installations for the Planet 13 development.
When asked if he would work with CODAworx again to find an artist for a future project, Larry Scheffler said, "Absolutely. CODAworx really delivered with Todd and the flowers. He was so important for this project. We are excited to soon beginning working with CODAworx again on our next phase, which will be a lounge and club inside the Planet 13 Entertainment Complex."
---
TESTIMONIAL

"I had no idea the number of people CODAworx was connected to around the world. I would have never had access to these artists, even the ones in my backyard, like Todd. Keeping in touch and reading their emails, CODAworx has shown me amazing work from around the world that I never knew existed. They have opened my mind to the possibilities and I'm excited to work with CODAworx again on our next project."
-Larry Scheffler, Co-Founder & Co-CEO, Planet 13 Las Vegas
TESTIMONIAL

"If it wasn't for CODAworx there was no way I would have found out about this opportunity. The CODAworx RFP provided all the info needed to have confidence that there was a perfect fit between the project's needs and our capabilities."
-Todd Moyer, Artist, Todd Moyer Designs
---
Learn how CODAworx can help streamline your next art commission and hire an artist for your future interactive installation.