Inspired by Dance
The curve and sweep of Joe Gitterman's sculptural work reflect a lifelong fascination with the physical dynamics and emotional impact of dance.
"I have always been passionate about dance performance. As an audience member, I am intrigued by the constant change of shapes and the seemingly endless variety of forms. My passion is trying to turn a fluid motion into a three-dimensional item."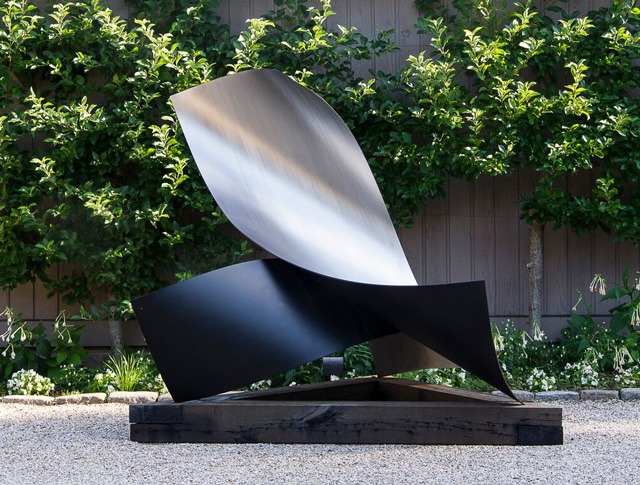 To capture those fleeting shapes without sacrificing the feeling that they are part of a living process is this artist's challenge and also a source of perpetual inspiration. His works in bronze, polished steel, and a number of other materials evoke the flair of fabric, the joyful unfolding of arms, and the turn of the head. "There is so much emotion conveyed in dance. That wonderful array of feelings is part of what I hope comes through in my work."
Gitterman's works belong to a long and venerable lineage in the history of sculpture. The very nature of the work is a kind of transformative magic: motion that doesn't move – rapture that is arrested forever.  August Rodin was one of the first to begin the process of abstracting the subject of the dancing body; this was followed by Isamu Noguchi and Robert Rauschenberg who had close relationships with dancers. "A wonderful serendipity was finding that the dance troupe Pilobolus (whom I've been a fan of for years) was based here in our hometown in Connecticut." Known for their dramatic and sometimes mind-boggling contortionism, Pilobolus' seemingly impossible arrangements of bodies have taken dance to the level of living, kinetic sculpture.
The Influence of Cinema
Gitterman also grew up in an era when cinema was a physical thing. A movie was literally a continuous strip of single images.
The celluloid strip of snapshots that pass through a projector at 24 frames a second creates this illusion of reality and is a good metaphor for Gitterman's visual thinking about the process of sculpture. He takes one of the 24 frames and uses it as his inspiration. Each work in the sculpture series are variations of a single frame, with a movement of their own. Their solidity and the weightiness of this most classical material belie the sense that at any moment they might leap into the air, turn a pirouette, or slip into a graceful bow to the viewer.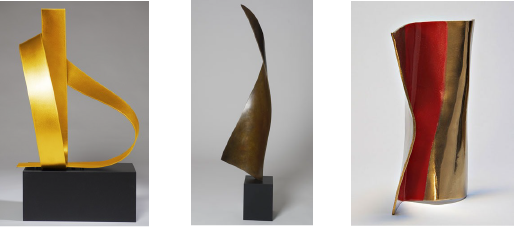 Ribbons, Bows and Knots … in Vibrant Color
Whether one finds Gitterman's work on a Norwegian cruise line or in the gardens of a cancer center, his highly polished ribbons invite one to contemplate the path of light, which, like those limber dancers, moves around, over, under and through the air. Like his other works, these knots may be references to dance, but on another level they signal something equally old and compelling: magic! Healers and magicians made knots as a way to bind up illness or stay the hand of an enemy. The knot is literally and symbolically a tying up of loose ends – cursive curls of this sort continually charm and fascinate us with their mysterious beauty.
Like the knot, Gitterman plays on the theme of bows and bow-ties. In these sculptures, all trace of the body has vanished, replaced by the sinuous stand-in of the ribbon. Never-the-less the underlying energy of body and ribbon is the same. The viewer experiences a lifted, lilting form moving upward and then cascading down, becoming its own partner as it curls in and caresses itself.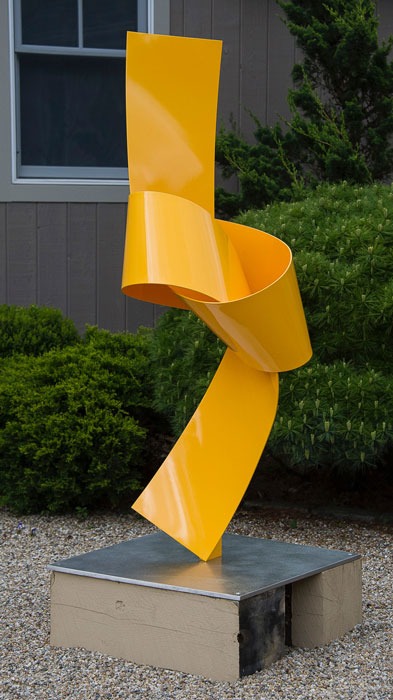 Color as well now plays an important role in Gitterman's work.
"There is something that radiates out of my work when I apply color to it.  I am at the moment totally besotted with a particular yellow." The boldness of the yellow amplifies feeling, charging the forms with powerful, positive energy.
Patinas or bright colors are sometimes applied to parts of the work while the rest remains polished metal. "Interior designers have found this helpful," says Gitterman. "It increases the sculptures' range as decorative objects and allows for a new experience when the pieces are turned."
"It's a little surreal sometimes to come out of an elevator in a major office or apartment building and see one my pieces standing there, theatrically lit at the end of a long hallway. I don't take any of it for granted. I don't think I will ever get over the absolute sense of delight that these pieces live in public spaces and are seen by so many people."
A Very Satisfying Journey …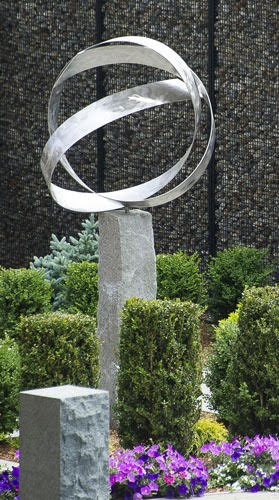 Although Joe worked constantly on his art for over thirty years, he never thought it would be a professional endeavor. After retiring from a successful career on Wall Street, Gitterman was able to dedicate himself to his pursuit of making art.
His move into the professional art realm happened quickly and with a great deal of serendipity. Chance meetings and unexpected opportunities punctuate a wonderful journey, one he is tremendously grateful for and has never for a moment taken for granted. It propelled him to continue to hone his skills, and to create movement in ways he never imagined when he first fell in love with feel of metal in his hands.
Although he frequently collaborates with craftspeople and casters who make the final versions of works that he has first realized in model form, Gitterman says there is nothing like taking sheets of soft metal, wax, and even Plexiglas that have been warmed in an oven and working with the material to create a form that expresses the essence of graceful movement. The spirit of the sculpture gives form to the material, just as a dancer's will does to the dancer's appearance under the spotlights.
"The satisfaction I get from actually bending and shaping the materials is like nothing else."