Structural Natures and Nature's Structures
"People who spend time with my work are amazed that they move slightly when touched- they are incredibly strong, but they are also surprisingly delicate." Sculptor DeWitt Godfrey has spent his professional life fascinated by the physics and practical application of materials. The hallmark of his current sculptures are conical metal sections, which when multiplied and combined create works of placid organic beauty. These ovoid shapes give Godfrey's work the uncanny ability to appear to change shape as light transforms their convex and concave surfaces. "My works arise out of a process in which I am always in touch with what the materials show me regarding what forms are possible. This is as true for the elements that make up the sculptures themselves as for the architectural structures and natural landscapes that are the settings for his commissions. Godfrey refers to this process as "form finding as opposed to form declaration."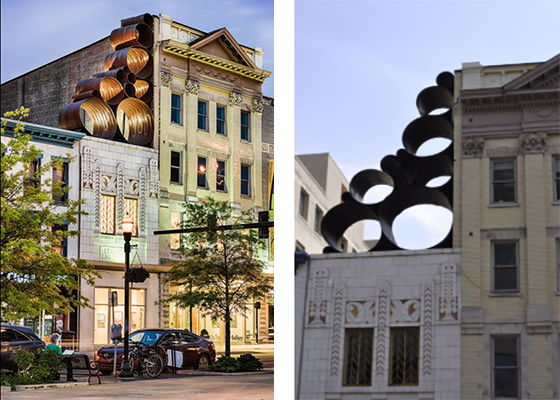 Godfrey impresses this way of thinking about the nature of sculpture upon his students.  He asks them to consider how a work of public art will be in dialogue with its surroundings. Will the work change the conversation between the various elements of the space, as well as the flow of the people who pass through it on a daily basis? "We also have to consider the element of time," Godfrey says. "Many public spaces, especially on the east coast, have buildings that span many decades, even centuries. The artist has to be very sensitive to any new additions to the mix." As an example of this Godfrey references his sculpture "Concordia," a work constructed out of about a dozen steel cylinders arranged in honeycomb fashion. "Concordia" sits atop a tiled Art Deco façade and rests against one side of the upper floor of a late 19th-century neoclassical building. The gentle dips in the metal provide a startling visual link between the geometric plant forms of the 1930's and the more opulent Greek revival columns of the 1800's. The piece is arresting, especially when nighttime illumination sets off the gleaming interiors of the tubular elements.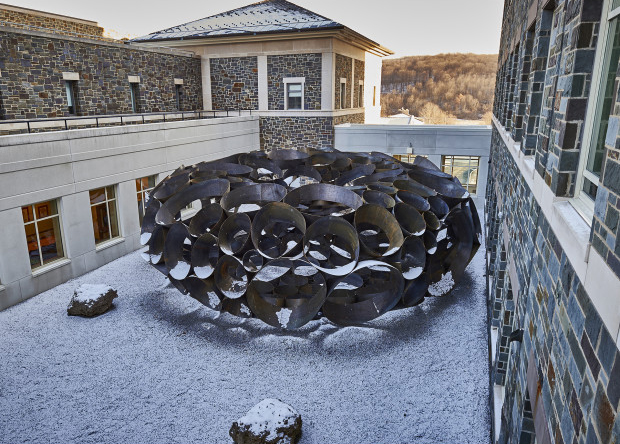 "Odin," a thirteen-ton sculpture created for Colgate University, where Godfrey is a professor of art and art history, was created in collaboration with mathematicians and engineers and supported by the Picker Interdisciplinary Science Institute.
"Odin's" oblong elegance echoes throughout the smaller ellipses of which it is comprised. The sculpture is reminiscent of sea-sponges, ocean colonies of unicellular organisms, or soap bubbles. "The work takes its cue from natural structures, but by working with engineers and highly sophisticated algorithmic programming we have been able to extrapolate and build on those natural structures," Godfrey points out.
That "Odin" takes its name from the Norse deity of wisdom seems apropos. Odin gifted humans with the alphabet and mathematics and was later identified with Mercury, the Latin god of learning. Both were masters of shape-shifting and could easily blend in when they traveled among mortals to test them. Positioned as it is within a small quadrangle at the university "Odin" seems to have mysteriously materialized from out of thin air or grown up from the ground. Godfrey's sculpture feels like some kind of otherworldly visitor, yet one that adroitly takes its cues from its surroundings. Odin's spore-like mass is quite literally built up out of the principles of higher-mathematical and engineering experimentation – an example of science and art in harmonic balance.
An informative and eye-popping video of the making of Odin can be seen here.
Inspired Follies & "Enspired" Monuments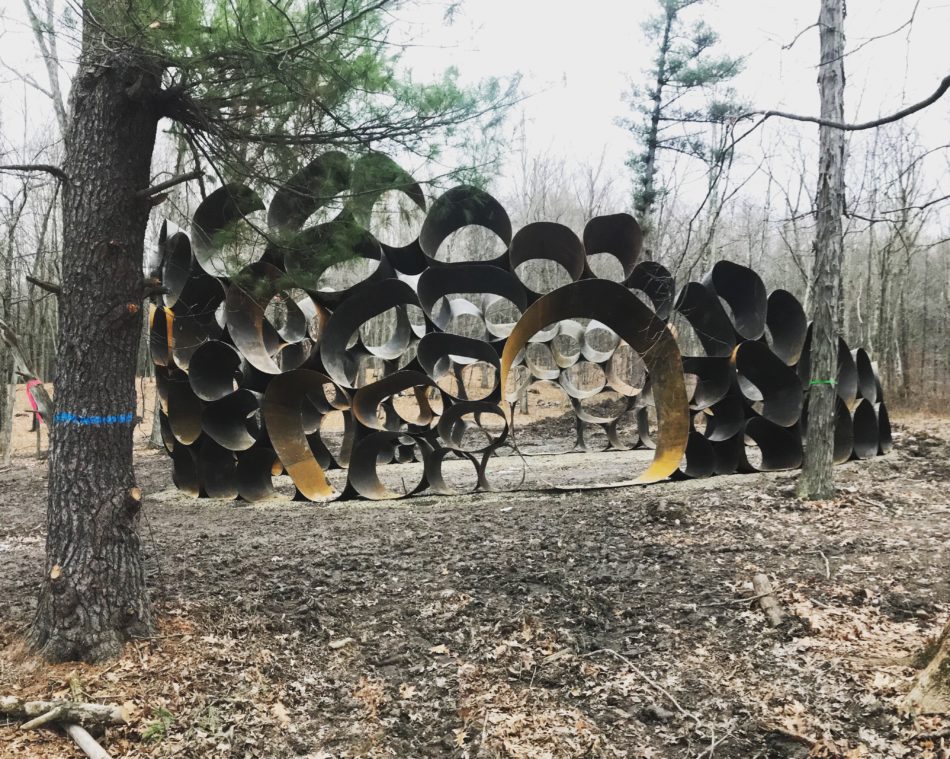 'Folly," a recent commission for a private collector in the Hudson Valley, pays homage to the small ornamental buildings built by 18th-century aristocrats on their country estates. Though this work couldn't be more different in style from those architectural confections, it draws on the playfulness and the ornamental nature of its namesake.  Like a gathering of sea-foam or the fringe of a forest mushroom, "Folly" appears like a product of nature, at times solid and then transparent to the views of the forest around it.  "We are in the process of creating a companion for this piece that will take into consideration the stream that flows nearby," says Godfrey.  "The curvature of land and water will of course be one of the guiding principles here."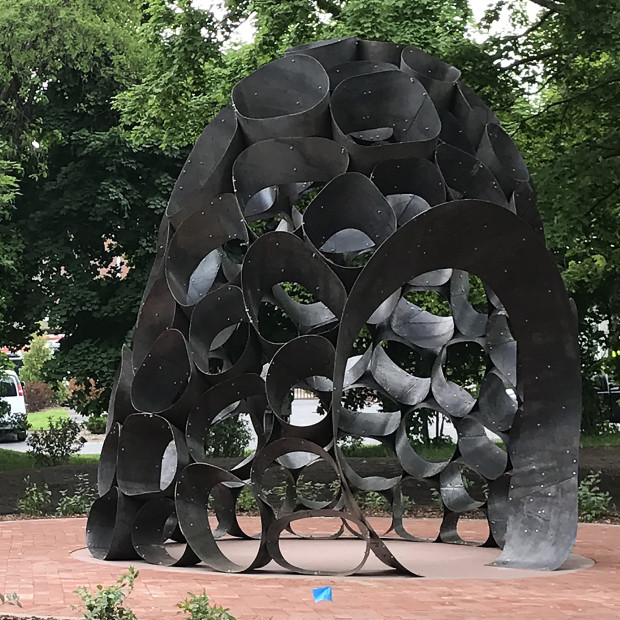 Commissioned by the Traverse City Arts Commission in memory of Bryan Crough, a visionary civic and cultural leader, Godfrey's monument "Enspire" echoes the shape of a small chapel or ceremonial hut. One large ring appears as the doorway where visitors may enter the sculpture. Once inside they are completely surrounded by the cellular forms that are heaped up, rising up into gentle dome.
By changing the first letter of the titular word from "i" to "e", this sculpture announces its power to draw people into its center. If "inspire" means to bring about an opening of the imagination and the experience of creative possibility (literally "to be filled with spirit"), then to "enspire" would seem to imply something more physical- to be drawn into a place and to be directed upward.  This is a subtle difference but a key to the nature of this work.
An invitation to enter, whether real or merely visual, is a major component of Godfrey's public sculptures. This interpenetration of space creates a lightness and metaphysical psychology, where his work can be experienced from within as well as from without. Godfrey's sculptures are paradoxically complex, and yet guided by simple structural systems based on the mathematics of nature. Indeed, the possibilities are endless when emerging from the mind of this talented and thoughtful artist.