Welcome to a dash of our favorite art and design news of the week. Want your  exhibition or commission to be covered? Let us know.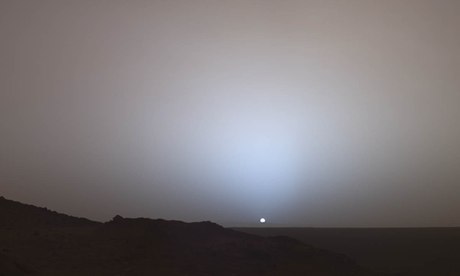 5. Cursed Art Loses an Election for a Politician
A candidate for the Democratic primary of the New York City Council is claiming the incumbent of the seat cursed her with a public art mural on the facade of the building. (She lost the election.)
4. Opportunity and Freedom Found on Mars
The Smithsonian is celebrating a decade of the Mars robotic rovers Opportunity and Freedom with an exhibition of stunning photos taken on the planet. The exhibit is open through September of this year.
Guy J. Bellaver has won Washington & Jefferson College's recent Public Art 1970 Commemorative Public Art Competition. "The '70s were also a time of major accomplishments and changes for me, so this piece is strongly rooted in my background and experiences," says the artist.
The NY Times Magazine did an extended profile on Chicago artist Theaster Gates who's oeuvre includes "sculpture, musical performance, installation and something that has been called large-scale urban intervention."
A group of private donors have offered to the city of Detroit a plan to save the city's art collection. Nine philanthropic foundations pledged $330 million towards pension creditors in the city in exchange for transferring ownership of the artwork from the city, who might otherwise sell it, to a nonprofit organization.