Welcome to the November issue of CODAmagazine, where we share the best design + art projects from all over the world. This magazine is published once a month by CODAworx. We're an online community for artists, design professionals, and industry resources to showcase their work, collaborate with one another, and find the creative resources they need for future projects.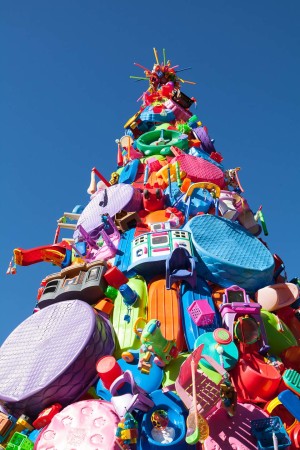 The Magic of Color is the organizing principle this November. We're gifting you these outstanding design + art projects, tied up with ribbons of every color. We're documenting the brightest in every hue, in a huge variety of media; we selected 25 eye-popping, chromatic works where collaborative teams transform public, commercial, and residential spaces through every shade on the rainbow.
In this issue you'll find a neon pink light sculpture designed to increase visibility for Breast Cancer Awareness month at the entry of an upscale hotel in New York City, a brilliantly colored glass wall serving as the new entryway to the Miami Airport, and a permanent nighttime spectacular in a Shanghai amusement park. Just a peek at this latter project will leave you smiling all day long.
Chock full of arresting works that reflect on color's ability to bring meaning and depth to a space, this CODAmagazine provides a sumptuous feast right before the feasting holidays. My favorite: thin blue strings stretched between arch-shaped frames to create tunnels of color across the cloister garden of a French cathedral. That could make me go back to church.
We hope you will subscribe to CODAmagazine on Flipboard to receive the best design + art projects from all over the world, delivered to you, free of charge, each month. We look forward to sharing more of these very special collaborations with you!
Sincerely,

Toni Sikes, CEO and Publisher
CODAmagazine