When it comes to light, we humans are not so different from the idiomatic moth. The energy for all living things is derived from the sun, its light a most necessary ingredient for our survival. Light is essential in our ability to see, the result of a complex interaction between eyes and brain, and the presence of light contributes directly to our mental health, sense of safety, and ability to explore of the world around us. But humans also have a subconscious relationship with light, an intuitive attraction that draws us to it in all its forms.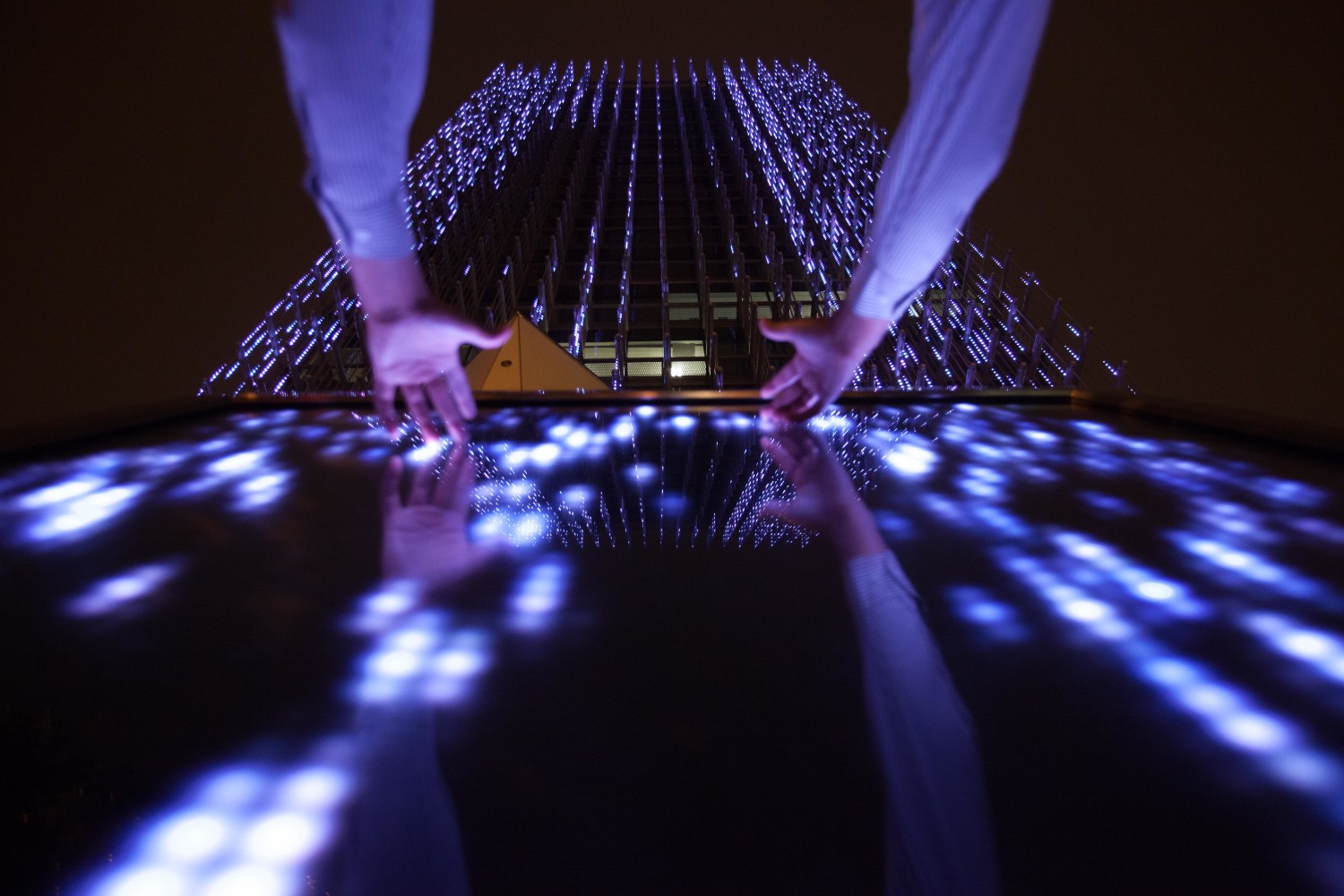 "Lighting has a visceral impact on people," explains Susanne Seitinger, Global Segment Manager for Cities, Philips Lighting. "As a human being, you can't keep yourself from reacting to it. Even when we're not consciously aware of light, it's impacting and affecting us."
The power of light is well known to Philips Lighting, the global leader in lighting. In 2007 it acquired Color Kinetics, an innovator of LED lighting systems and technologies, and the first manufacturer dedicated to designing and marketing dynamic LED lighting systems. Much like the control systems used in theater, Color Kinetics has brought intelligent LED illumination and control platforms to large-scale public light installations, many of which are designed by prominent artists and architects. With the LED revolution came more opportunities for Philips Lighting to experiment with architectural lighting, led in part by the work of renowned American artist Leo Villareal, whose public light installations have challenged the company to develop larger LED arrays, software, and systems to produce his illuminated visions.
Today, Philips Lighting is pushing the envelope of new, creative urban lighting, which has proliferated in the wake of solid-state LED lighting technologies and readily available digital processing capabilities, both locally and in the cloud. Light is no longer a "supporting actor for shaping outdoor environments," says Seitinger, but is becoming "one of the most powerful, holistic tools for urban design." Whether working with artists, designers, architects, new media artists, government organizations, or non-profit groups, the goal of Philips Lighting remains the same: to successfully translate the conceptual into a practical installation of light, and expertly advise clients on everything from materials and software to safety, maintenance, and installation.
While demand for public LED light installations and supporting technology has grown—and artists such as Bill FitzGibbons and Claudia Paz continue to challenge our notions of what is possible with light—new questions about the quantitative benefits of public light installations have emerged. These questions, Seitinger says, are tied to the changing nature of public spaces.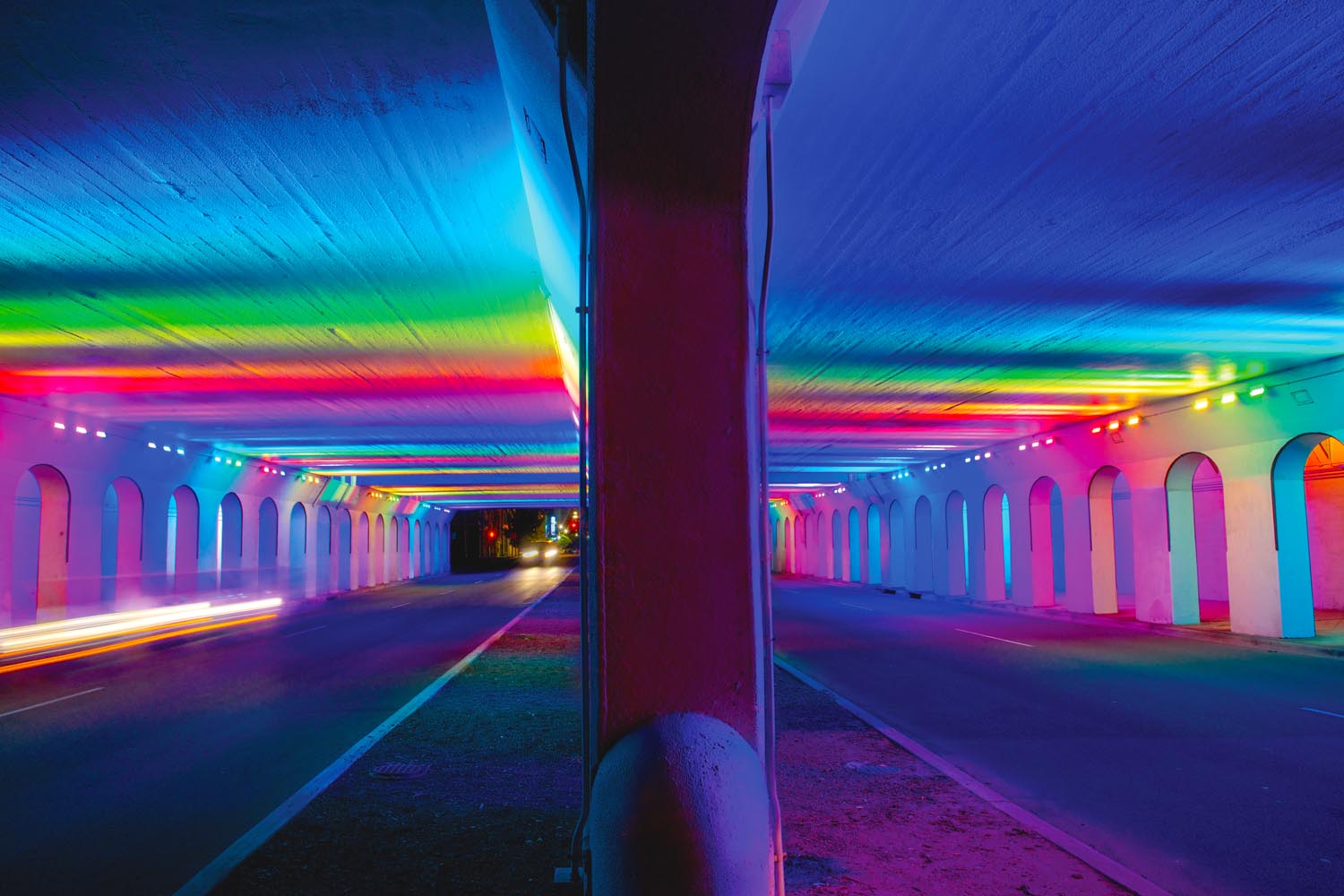 "We're in a time when decisions around public spaces are changing—and the stakeholders for those spaces are also changing," she says. "There's more participation around the design and use of public spaces. There's more overall awareness of changes in things like urbanization, revitalization, financing, and shifts in transportation. It's all creating a new context for public spaces and public artwork." City departments, mayors, and other civic participants not directly connected with the creation of public light installations began to inquire about the value of these pieces, beyond the aesthetic. "We started getting these comments and questions from civic leaders, who would say things like, 'I like the piece, but what else is it doing? And how do we track that?" Seitinger reports. "We wanted to be able to share a way of thinking about the impacts of a light installation as not only a functional source of light and engaging work of art, but also as a spark for increasing tourism, economic development, community pride, and neighborhood revitalization. So we commissioned a study to help quantify the benefits of a public light installation for the public."
Ambient Light Empowers Places
Published in the fall of 2016, Philips Lighting's impact evaluation and analysis, "Ambient Light Empowers Places," represents the most comprehensive study of the quantitative benefits of public light installations on the cities where they are installed. Working with Boyette Strategic Advisors, an economic consulting firm, Philips Lighting selected four U.S.-based LED light installations as a sampling for the study. "It was important to us to have projects that differed in scale, type, location, and budget," notes Seitinger of the projects' selection. "We wanted to demonstrate that light installations can have an impact at a variety of levels—it doesn't always have to be a monumental project." Each project is one that Philips Lighting produced, working in conjunction with artists, designers, architects, and/or city planners, among others.
Evaluating four unique public projects on their social, cultural, and economic impact required a unique methodology. "Because each of these installations is free and accessible to the public, we didn't have a controlled means of evaluating each's success—like ticket sales or admission—that could be directly attributable to the project," Seitinger explains. "We knew that we would largely have to consider the indirect impacts each project had on its community—and that each project would necessarily have its own unique set of measures."
Here are just a few findings from each of the study's four projects:
River Lights in the Rock, Little Rock, Arkansas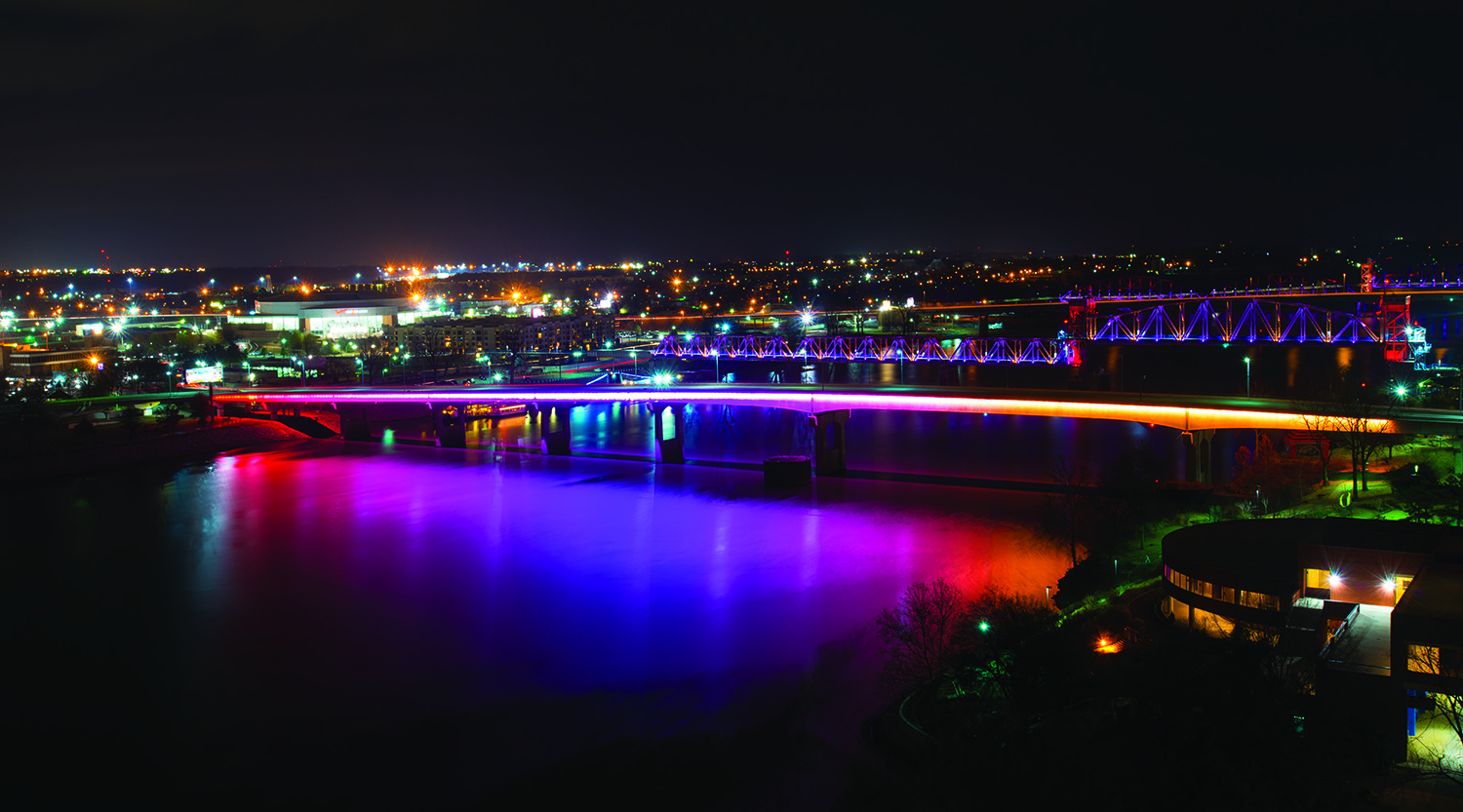 River Lights in the Rock been utilized to promote conventions in Little Rock with more than 60,000 attendees, which had a tourism impact of $19 million
1.2 million visitors annually flock to nearby venues to get a view of the bridges in addition to the 125,000 vehicles daily that see the bridges
National media coverage, in addition to significant local coverage, was more than 70.6 million in first two years alone
Project has seen social media exposure in excess of 125,000 impressions
The Bay Lights, San Francisco, California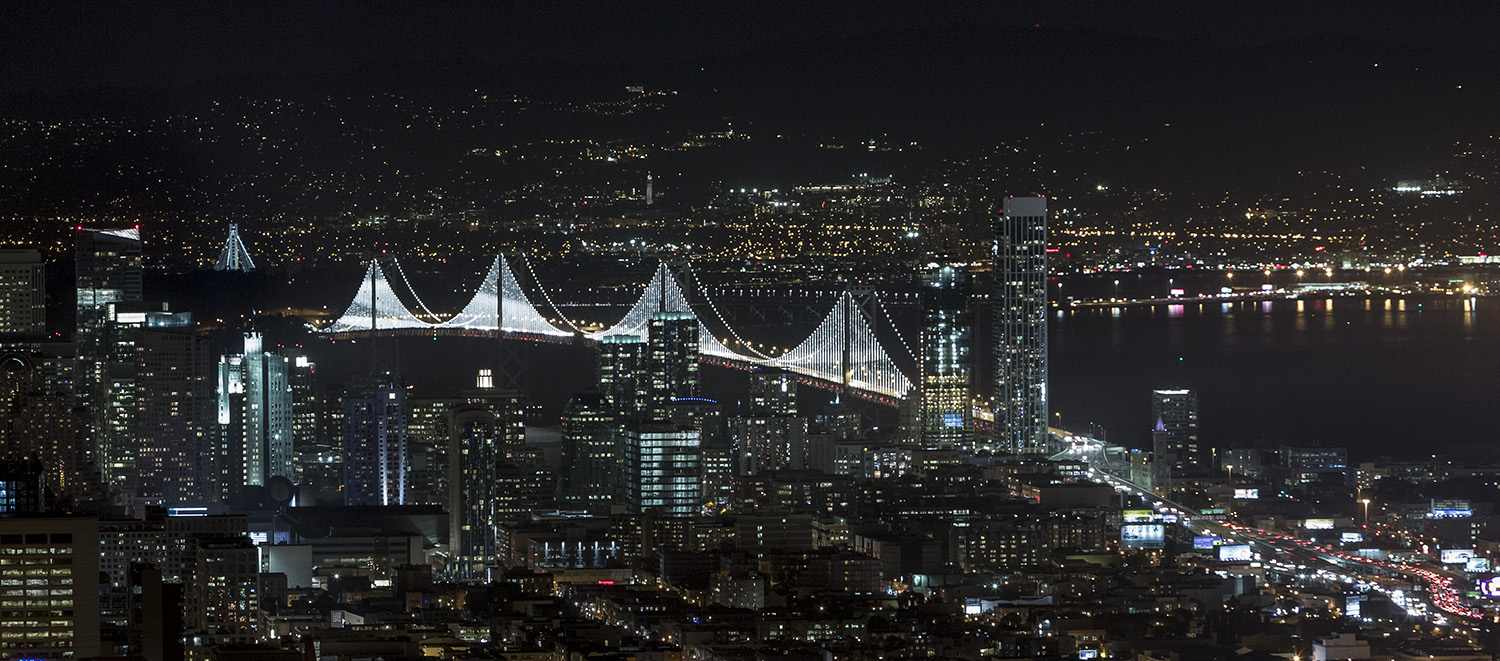 The Bay Lights project was funded with a total investment of $12 million, with an economic impact of $18million
Media coverage has in stories on CNN and NPR, as well as in The New York Times, the Wall Street Journal, Forbes, and Hemisphere magazine has had a combined reach of more than 600 million subscribers
More than 100 YouTube videos of the installation are available, with the most popular having more than 100,000 views
Gateway Community College Faces, New Haven, Connecticut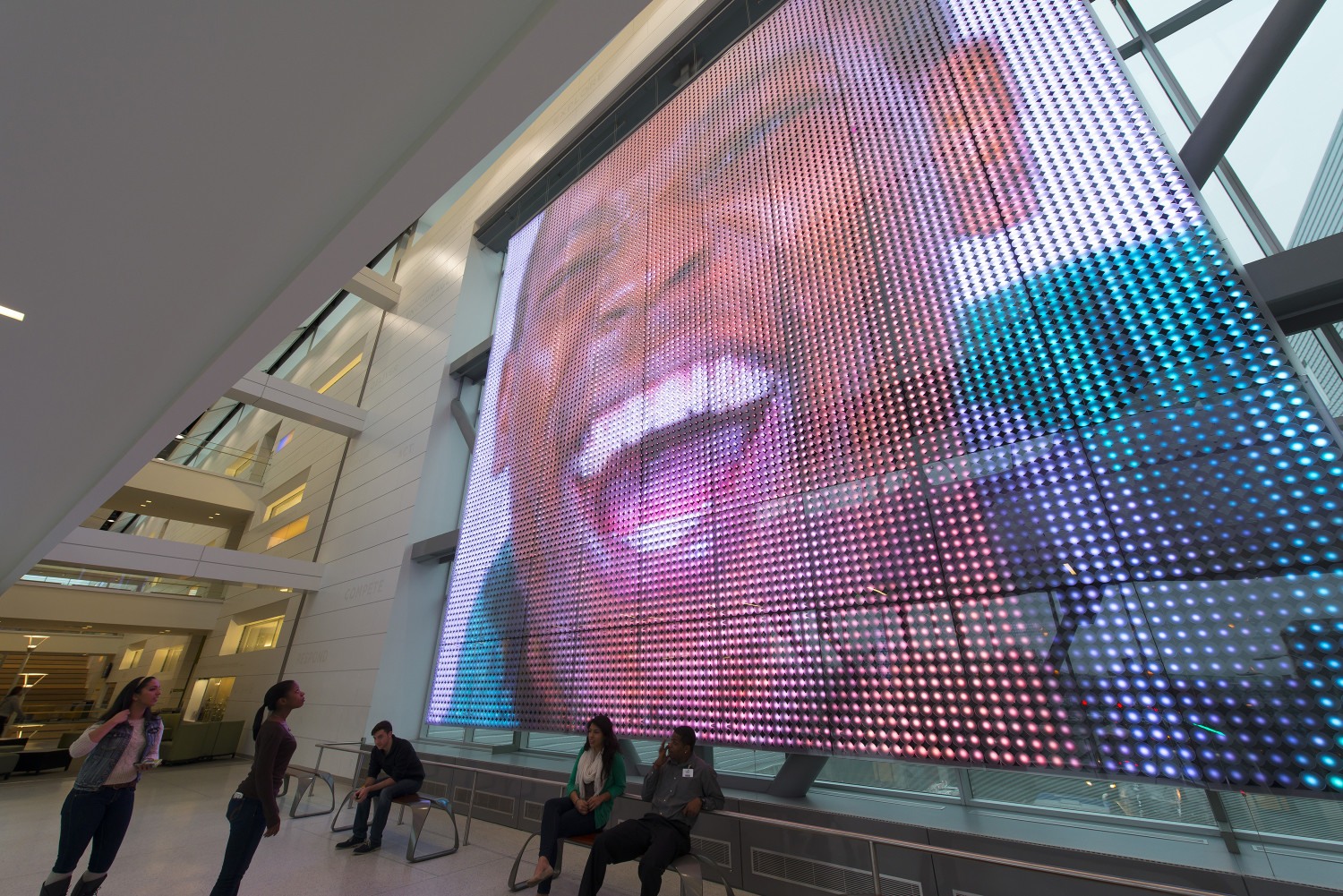 One of 50 public art installations on community college campuses in Connecticut
In addition to exposure to 14,000 students on the Gateway campus annually, the installation can be seen from George Street, which has a daily traffic count of more than 11,000 vehicles
Has been recognized with two awards – a Lighting Control Innovation Award of Merit and a CODAworx Merit Award for Education
District Hall, Boston, Massachusetts
Since District Hall's opening in late 2013, the facility has hosted more than 1,400 events with 70,000 attendees
District Hall has provided in-kind event space valued at more than $2 million
The lighting in District Hall, which is a key component of meeting the facility's goal of being an inviting public space, has been featured in a range of business, architectural and consumer publications including, Fast Company and Metropolis
In total, the four projects were found to represent a combined investment of more than $15 million and a total impact from the installation investment of almost $22 million. The cultural, social, and economic impact of light installations on cities was also significant, particularly through the efforts of organizations and cities to promote their projects: "In researching these projects, it is clear that cities and organizations that leverage their lighting installations see a greater overall impact," the white paper concludes. "If a community maximizes exposure of the installation through marketing and social media vehicles, it will be elevated to a higher profile that leads to a broader social and cultural impact and, ultimately, economic impact resulting from tourism and economic development investments…. More and more cities are seeing the value of light as something beyond its functional use. It is becoming a tool for driving community engagement, promoting health and wellness, and revitalizing areas that have begun to decline."
A Blueprint for Public Art's Impact
For Seitinger, results from the study demonstrate a quantification of what she and her colleagues at Philips Lighting had long suspected: that public light installations positively affect our cities in varied and unexpected ways. She hopes the study will help convince municipalities of this as well.
"I think the study will give cities a way to think about the impact of light installations in broader ways. Beyond being an integral piece of artwork, a light project can be a tool for promoting placemaking, wayfinding, revitalization, and safety in urban design. And if you think about the 24-hour experience and light's ability to be utilized day or night, cities may be missing out if they don't consider making light a key part of their planning strategy."
She also hopes the study will serve as a blueprint for organizations to evaluate the impact of their own public projects, both qualitatively and quantitatively. "The quantitative really helps to understand the qualitative," she notes. "Anytime you incorporate a project in a public space that uses public or a mix of public and private funds, there's a responsibility to ensure that the choices being made will lead to the best possible outcome for the goal of the piece. I think this study provides a starting point for how we can demonstrate these outcomes."
Light installations are particularly interesting and important to gauge, Seitinger posits, as the interest in LED lighting grows and is used in myriad ways. "There's been a blurring of the line when it comes to light installations," she says. "Communities and businesses are using it for everything from branding and signage to 'pure' works of art. That makes sense because even a small light installation can have a big impact on a space and help draw people in. But there are also continual costs to powering and maintaining light installations, so it's important to ensure these investments are paying off."
Finally, Seitinger hopes the study will help illustrate how lighting installations can help bring a community together and draw new visitors to a city. "If cities and organizations consider what type of activity happens in these publics spaces, they can create a lighting installation that works with the events, activity, and meaning of those spaces." Excitement and connection can help generate funding for a light project—as it did for The Bay Lights project, for example, which raised $4 million in funds to convert the project from a temporary to a permanent installation.
Once installed, LED lighting can further build community through programming, as it has for Little Rock, Arkansas, and its River Lights in the Rock project. The three bridges encompassing this installation have been variously illuminated to show pride for sports teams, promote causes for non-profit organizations (such as breast cancer awareness), and welcome companies and associations meeting at the nearby convention center. "Light has such a unique way of capitalizing on visibility, access, and engagement," Seitinger concludes. "That kind of impact has the power to create incomparable outcomes for a community and its visitors."