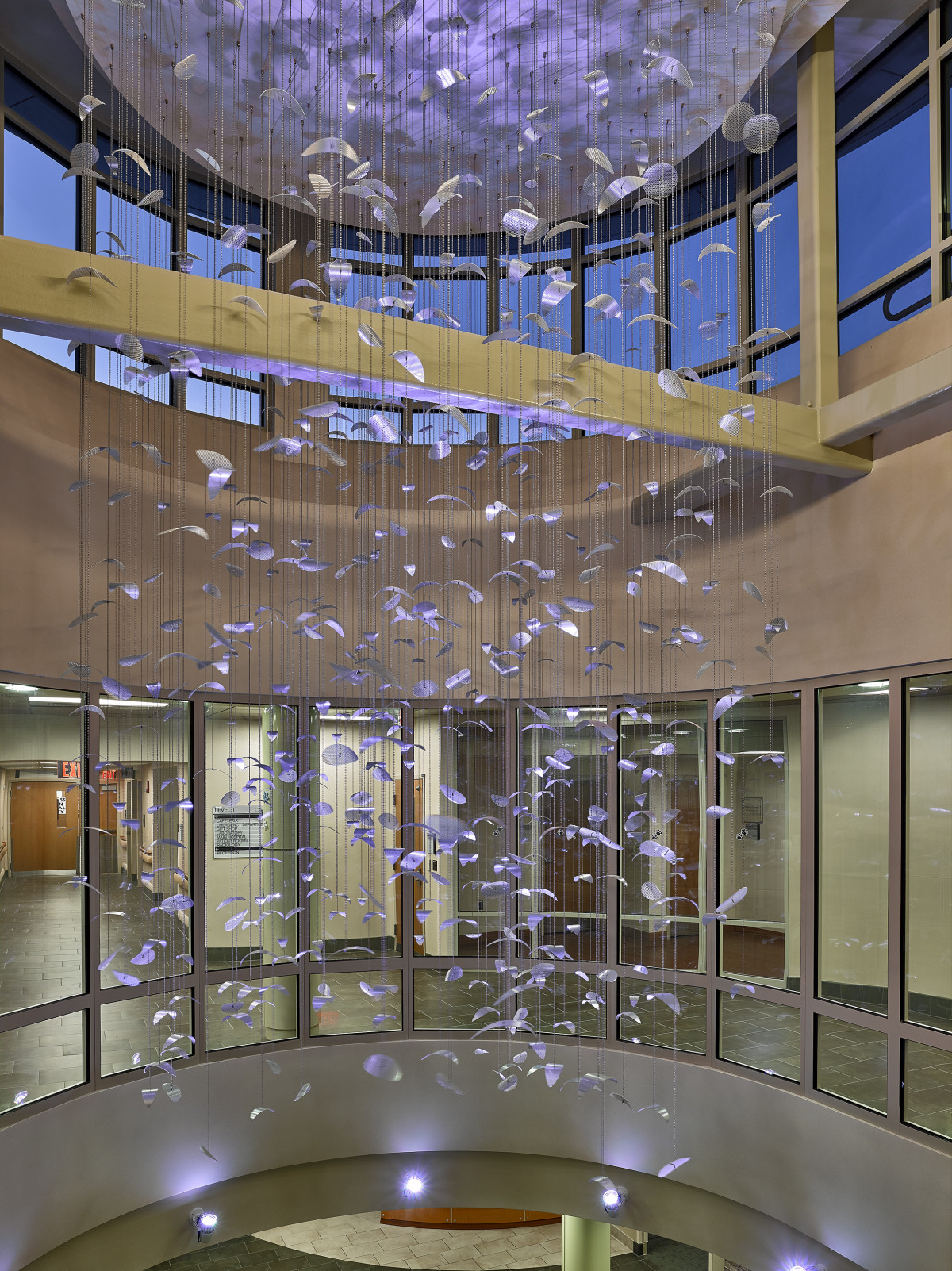 To see any of the thirty dynamic suspended sculptures that artist Talley Fisher has created and installed in hotels, hospitals, airports, and corporations worldwide, you'd never guess that becoming a sculptor wasn't exactly her plan. But a decade into a successful art career, she'll tell you that it was an exciting and fulfilling detour.
Seems more like destiny.
The daughter of award-winning international sculptor Rob Fisher, Talley's childhood was spent surrounded by art. The Fisher family traveled internationally with Rob to his art installations and lectures, and he made sure that art museums and the study of architecture were always part of the journey. "Seeing the world through his lens as a child was very interesting," recalls Fisher. "He was constantly taking photographs—we have thousands of his photos—and always discussing art and architecture with us."
An instilled love of nature was also part of her upbringing, and the family's summer home in the isolated mountains of Pennsylvania along the Susquehanna River provided ample opportunity to experience the natural world through Rob's artistic eye. "We'd be near the river and he would say, 'Look at the way the light is reflecting on the water,'" says Fisher. "We learned how he was seeing the natural world, and how it informed his sculpture."
The appreciation of nature took hold in Talley, who graduated with bachelor's degree in Zoology from the State University of New York in 1996, followed by a Master of Landscape Architecture at the University of Oregon a decade later. Her plan at that point was to work in large-scale natural resource management, landscape planning, and landscape ecology. A master's project on merging art and science in mining reclamation, as well as the study of landscape architect Julie Bargmann and artists Robert Smithson and Stacy Levy, was piquing an interest in the intersection between landscape, ecology, and art.
But the path veered suddenly in 2006 when Rob died unexpectedly, leaving behind, among other things, five outstanding art projects, all in varying degrees of completion. "One project was hanging in our barn, others were just concept sketches that were years from installation," remembers Fisher. Rather than disappointing clients and seeing her father's work unfinished, Fisher picked up the plans and began the work of a sculptor. The studio began receiving more calls for work, and Fisher began designing her own projects, melding natural imagery with feats of structural engineering, an exploration of nature, science, and art that she not only discovered she was prepared to tackle, but also gratified to create.
"I found creating artwork that brings the natural world indoors and enriches the experience of a visitor in a space to be very fulfilling," says Fisher. "By drawing on my background in both the sciences and landscape architecture, sculpture allowed me to explore my interest in these disparate fields and bring them together." Her experience in landscape architecture has likewise served in unanticipated ways, helping her create computer models and renderings, reading construction plans, and collaborating with architects and engineers on the installation of her suspended works.
Floating Metal
Today many of Fisher's projects come through art consultants, who represent a variety of clients with a multitude of needs. Some have seen her previous works and want something similar. Others give her artistic license to create a piece from start to finish. But the majority of her projects are collaborative, the initial ideas and vision stemming from the art consultant and client, a shared process Fisher very much enjoys. "I take their ideas and come up with a couple of concept designs. I try to think about who will be using the building and viewing the work, and how the art will interact with the space. I then create something positive from there."
Her Constellation project for Mount Nittany Medical Center in State College, PA, for example, started with the client's desire to incorporate both organic elements like leaves, origami, or small birds, as well as the hospital's geometric logo. "I was a little hesitant at first," Fisher admits, "but it worked really well. It's up to me to take these ideas and put a creative spin on them."
Natural elements are a common theme in Fisher's work, which she designs and builds herself. Stylized leaves, birds, clouds, waves, and stars have all come to life in her sculpture (though she also creates geometric-inspired designs), each element precisely suspended from stainless steel cable or bead chain to create a sweeping, unified arrangement that's both abstract and organic.
Fisher studio prides itself on working with many local vendors, who work closely with Talley to fabricate her work in perforated aluminum, which is water-jet or laser cut, then rolled and shaped. "I suspend part or all of the sculpture in my studio to do a mock-up and take images of this to send to the client so we can discuss the composition," she notes. From there, the pieces are anodized or powder-coated, often using her signature feathering technique, which lends interesting depth and color. Perforated aluminum has proved to be the perfect medium for Fisher's pieces. It's lightweight, durable, and can be anodized or powder coated. It's such a perfect medium, it can be difficult to incorporate new techniques and processes, though Fisher strives to find opportunities to do so.
One recent project, Ghaf Tree, created for Sheikh Zayed Desert Learning Center in the United Arab Emirates, provided a new way of working with metal. "The clients were looking for a representation of the Ghaf tree, which is the national tree of the UAE, and I wanted to try a sculptural representation," Fisher explains. "I really enjoyed working with the fabricator to create the beautiful trunk of this tree, which is composed of stainless steel tubing that we physically curved by hand. It's one of my favorite pieces."
Once a work is completed, pieces are crated and shipped for installation, which takes anywhere from one to eight weeks. Depending on the height and size of the installation site, rigging companies and structural engineers may be called in to help create a plan. "It can be a challenge switching gears from the creative process to reviewing architectural plans, but I really enjoy the installation process and working with engineers to determine how to suspend the work," she says.
Fisher has been called in to create work for buildings both existing and under construction, but finds the designs can be more seamless the earlier she's brought into a project. "Art often goes into a building last, but the sooner I can be brought in to a new or remodel project, the more opportunity I have to work with a client and architect and create something that's truly site specific," she notes. "But new or old, I'm happy to work in any kind of space."
Looking Up
Opportunities to travel around the world and collaborate with people from all walks of life and with varying levels of artistic vision have been rewarding for Fisher. "One thing I've learned is that not everyone can visualize an idea or how a piece of art will look in a space," she notes. "It's challenging and interesting for me to come up with ways to help others see what I'm envisioning in terms of art for a particular space." Fisher has recently started working with 3D modeling to help her accomplish that.
New opportunities for collaboration and creation continue to come her way, with projects that range from six months to six years to complete. Currently she has four projects in the works, including a large piece that's to be installed in a train station in Hong Kong.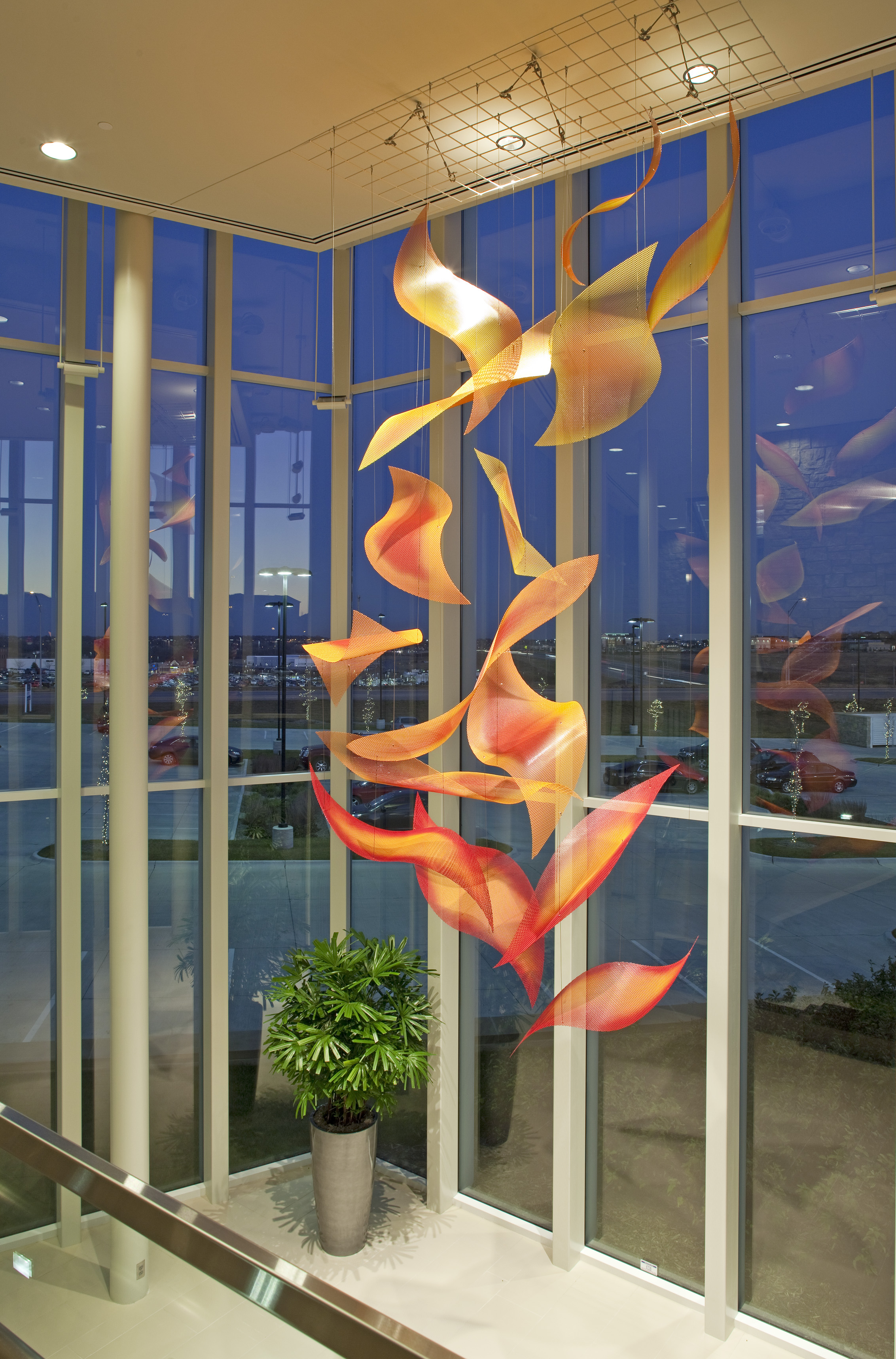 Beyond the artistic process and challenges of installation, Fisher takes satisfaction in knowing her work has the power to change a space, enhancing the architecture and creating a new environment. An empty atrium becomes more inviting with suspended sculpture, helping to make a visually smooth transition into a building and creating a positive experience of place for the viewer, who literally looks upward to see her art.
"Suspended sculpture can really take the viewer's thoughts to a different place," notes Fisher. "In a setting like a hospital, maybe you're elevating the mood of the viewer for a moment and taking them away from whatever might be happening there. It's really about helping that person experience an environment in a more optimistic way."